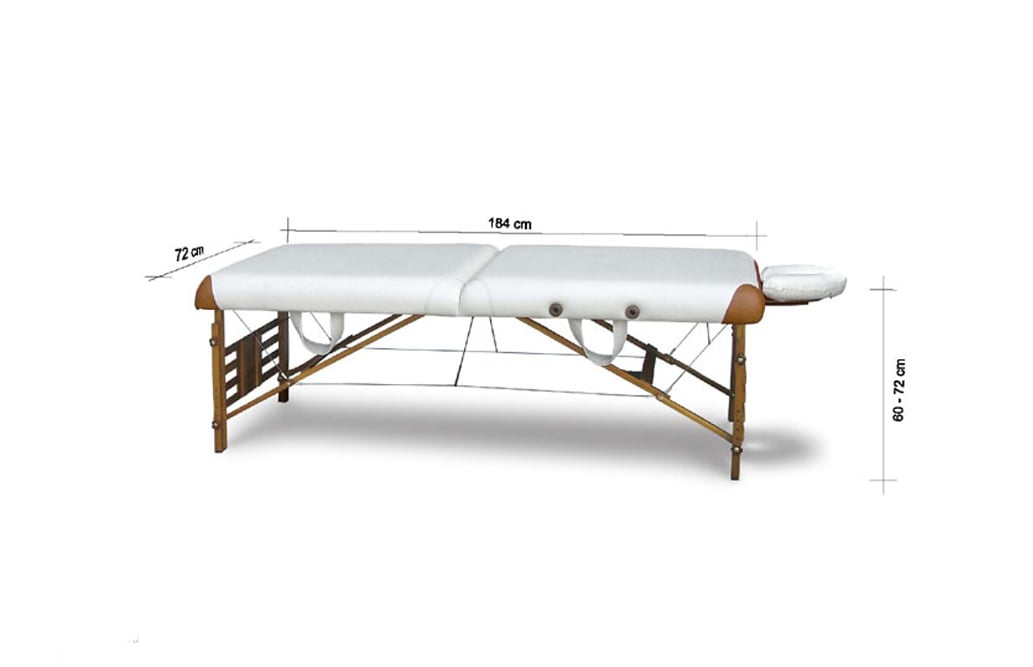 SHOP
Portable massage table
Close dimension: 75 x 100 x 22 cm
Weight: 15 kg
OPERATON PROCEDURE
Instructions
Opening the bed:
As on picture vinyl handles are facing up. Release the lock

Slowly open the bed, do not force the legs when they open

Make sure all cables are free and not caught on the legs as a bed

Remove the face cradle support and cushion from the attachment strip on the inside of the bed

Open and turn the bed towards you with your foot locking one of the legs to place it in an upright position

Place the face cradle support in the holes. Place the cushion on top and adjust according to your need

The legs can be adjusted to the height most comfortable for the person giving the massage

Cover the bed with fitted sheet and top cover as desired
Closing the bed:
Remove the face cradle and cushion from the bad frame

Put the massage bed on side position with the wheels on the floor

Place the face cradle cushion and support back onto the velcro attachment strips. Make sure they fit exactly

Make sure all cables are properly positioned

Slowly close the bed; ensure vinyl handles are not caught inside.

Never force the portable when it closes

Lock the portable properly

Place back in storage bag
How to clean:
Make sure to maintain the vinyl with the vinyl cleaner for oily areas after each use
General information:
Always check bed condition before use.
Always ensure weight is evenly spread on both side of the table to allow both cable to work with same tension.
Never seat two people on the center of the bed.
Do not jump on the bed! Do not allow children to jump on it.
Follow illustrated instructions on reverse page.
Should you have purchased the accessory "Front Arm Extension" do not put excessive pressure on it.
Conditions and warranty:
The portable massage bed is guaranteed and tester to support up to 150 kilos of weight. Excessive weight can cause damage to the beds

Any wooden parts (a,b) or cables (c) that malfunction within 90-days will be replaced free of charge. After 90 days all service will be charged at cost

The transport is not including any delivery charge

The bed cover has been deemed to be in good condition. An rips or tears or needs for recovering will be at the full cost of bed owner
SHOP
Portable massage table